OTM Update version 8.4 _changelog
Berlin, July 31, 2017
>Project management >Customer administration – New database field with optional e-mail address for receiving invoices

For each customer company you can save a specific e-mail address for receiving invoices, e.g. "accouting@somecompany.domain".

Project managers can insert, change, or delete this e-mail address in the customer administration.

Through saving such an e-mail address, the setting "Invoice" in "E-mail delivery (all contacts)" will automatically be activated. This way "E-mail delivery" will be the default setting when an invoice is being generated.

Project managers can still chose the other option, either for the customer in general, or for the individual project when generating the invoice.

An invoice document (pdf), which is sent automatically by e-mail when it is generated, includes the sentence "This document has been sent by e-mail." at the end of the document.

Invoices that have been delivered this way, are listed in a separate section under >Bookkeeping >Newly created.


>Project management >Customer administration – E-mail delivery of invoices for customers, who have to pay in advance

Whenever a customer is saved as having to pay in advance, the setting "Invoice" in "E-mail delivery (all contacts)" will automatically be activated. This way "E-mail delivery" will be the default setting when an invoice is being generated. The setting can be altered manually by the project manager at any time.


Time zone information according to resource user settings

In the automated deadline reminder e-mail to resources the time zone is the one that has been selected in the resource user settings instead of always UTC.


>Reports >Project managers – Turnover stats according to individual services

An additional report shows the turnover broken down to individual services.


https for the OTM Microsite

All pages of the OTM mini homepage (OTM microsite) run encrypted with certificates under "https://".
If you communicate the URL of your OTM microsite it should start with "https".
The old "http://" address as in "http://myls.qtn.net" is automatically re-routed to "https://".


Improved assignment of outgoing e-mails

The assignment of outgoing e-mail to OTM projects has been improved.


>Task Board >Customer identification

Up to now in certain cases it could happen that a customer identification information was displayed while no potential duplicates where listed by OTM. The unnecessary customer identification information will no longer be displayed.


>Search >Customers

When searching customers in the database the search result will include an additional column "Last order", which shows the date, when the last order for the customer has been placed.
This column is not yet part of the export option for customer data.


Minor improvements and bug fixes
OTM Update version 8.3 _changelog
Berlin, June 27, 2017
When using resources from Internet job portals the payment process is often part of the interaction on these portals. If this is the case, there is no need to create payable vouchers with OTM, and from the perspective of accounting it might even be counterproductive.

To be able to record the costs of such projects in OTM, there is the option "Only record the costs" in the resource administration. By creating "virtual resources" with this setting and by directly assigning jobs to them, the costs will be displayed correctly and recorded in the OTM reports section without having to generate payable vouchers.

The setting "Only record the costs" can be made under
>Administration >Resources … >Preferences.



A timestamp is recorded for the rejection of a job offer and displayed under >Jobs >Overview.


The performance of the customer portal has been optimized particularly for customers who have many archived projects.


In the Project management section the display and performance of >Task board, >Quotations, >Orders, and >Bookkeeping >Newly created have been improved.


Minor improvements and bug fixes
OTM Update version 8.2 _changelog
Berlin, May 22, 2017
>Project managers
The file attachment of an e-mail in the customer thread can be copied directly into the file repository or the project documents or the customer documents. The same is true for attachments of e-mail in a resource thread.


>Project managers
All resource responses to job postings are shown in >Task board and in >Jobs >Overview.
The notes which indicate new resource responses no longer automatically disappear from the >Task Board once the project manager has opened >Jobs >Overview. They have to be removed manually instead, which can be done either on the >Task board or on >Jobs >Overview.
As the notes are shown on the Task Board and can be removed from there, the project manager can spare the time for opening >Jobs >Overview without missing any necessary information.


Resources who have registered an IBAN for bank transfer no longer have to register another bank account number.


Various bug fixes and improvements
OTM Update version 8.1 _changelog
Berlin, March 22, 2017
1) Resources' e-mail
On the right side of >E-Mail >Resources, there is an additional list of all unread resource e-mail. The status of one or all e-mail can be changed to "Read" immediately.
2) Small improvements
Improved user interface design of the new customer portal with updated color scheme.
The IBAN country list has been updated. More countries (e.g. Ukraine) can be used with an IBAN account.
In >Project managers >Jobs >Overview the timestamp of each individual job posting is available on mouseover on the job postings status information.
Each customer who is being asked for a project feedback receives an e-mail including a link to the online feedback form. (Until now only customers without access to the customer portal have received this e-mail, while customers with access to the portal where asked for their feedback only when logged into the portal.) The feedback option in the customer portal remains active.
Files in the >File repository will always be sorted according to the last settings of the user.
OTM Update version 8.0 _changelog
Berlin, January 30, 2017
1) OTM customer portal (customer service pages) | Redesign
The customer portal has been completely redesigned and has received a "Responsive Design". This allows customers to still use OTM on the PC with the browser, but also if necessary with the smartphone or tablet.
With the redesign, emphasis was put on a clear, compact and intuitive user interface. See reference at http://lsp.net/kb/otm-customer-portal-en.html
2) Customer portal | Archiving of projects
In the customer portal, "archiving" means that a project is no longer in the list of "current projects", but under "archived projects".
To keep the list of "current projects" clear, customers can archive projects under certain conditions:
(A) requests for which no purchase order has been issued, and
(B) orders concluded by the project management and for which no open operations exist (such as delivery files which have not been downloaded).
3) Customer portal | Automatic archiving of projects
Provided that the conditions described in the previous section are fulfilled, projects are being archived automatically:
(A) if a request is older than one and a half years, and
(B) if an order was completed by project management at least one year ago.
4) Feedback form for customers
Together with the customer portal, the feedback form for customers has been updated. Customers can submit reviews from "very good" to "bad" and leave a comment. Ratings and comments can be published together with the customer barometer.
5) >Project Manager >Order >Invoice
Warning when VAT ID is missing
If your company is located in an EU country and you create a customer credit note for a customer in the same country, you will receive a warning if no VAT ID of the customer is stored.
(Tax authorities could possibly refuse recognition of the VAT credited to the customer if the customer's VAT number is missing).
6) >Project manager >Task Board
No unnecessary E-Mail alert
If a customer orders via the online order form without logging into a customer account, then the e-mail confirmation of the order is no longer displayed under >Task Board as "New E-Mail".
The setting for sending the order confirmation e-mail is made in
>Administration >Preferences >E-Mail options as well as in >Project manager >Customer administration in the same way as the settings for sending the other e-mails are made.
7) >Project manager >Project >Project documents
Archiving of earlier versions of invoices and credit notes
If an invoice or customer credit note is being regenerated, the previous version will not be overwritten, but saved in >Project Manager >Project Documents. In this way, all versions are traceable at any time.
8) >Project manager >Customer administration >Properties
>Online order form (with and without login)
If other terms apply for a customer than your GTC, then the customer no longer has to agree to the terms and conditions in the online order form. However, if an optional text has been saved instead, the customer must agree to that.
In the customer administration, information can be stored for each customer whether the standard GTC is to be applied or not. If the General Terms and Conditions are not applicable, an optional note may be stored in an optional text area, for example, regarding applicable purchasing terms or a specific contract.
9) >Project manager >Orders
Display of the payment status of payment requests
For orders to which a payment request has been generated, the payment status is already displayed on the overview page >Orders in the "Invoice" status field.
10) Various bug fixes and improvements
OTM Update version 7.9 _changelog
Berlin, November 1, 2016
1) Every customer can order online – even without having an account to the customer portal
>Project management >Quotations >… >Conditions/options
>Administration >Preferences >Project management settings
A project manager can communicate the link of an online order page which does not require the user name or password from the customer. The purchase order the customer generates on this page does not authenticate the user. The customer can order without having to sign in.
This function can be activated in  >Administration >Preferences >Project management settings >Online order without customer portal. The default setting for quotations is done at the same location under >Quote preferences.
2) Customers who have a customer portal account can receive a download link
>Project management >Orders >… >File delivery
Until this update, customers registered with a customer portal account had to sign in so that they could download their delivered files. From now on, project managers have the additional option to communicate a download link which does not require the customer to sign in.
The link is visible for project managers underneath the text area of the file delivery e-mail page. This link is to be communicated cautiously, because - if for instance transmitted by e-mail – it can no longer be regarded as confidential information.
3) Project managers can hide rarely used text blocks
>Project management >Quotations >… >Conditions/options
The view of the text blocks has been condensed. In addition, project managers can individually hide text blocks which they rarely use. These text blocks remain accessible in an extra section at the end of the list, from where they can be moved back into the list at any time.
4) A new parameter for bookkeeping
>Project management >Customers >… > General customer data
>Administration >Resources >… >Master data
An additional field "Posting key" has been added to the core data of customers and resources.
Using this field, OTM can create DATEV-XML export packages. Licensees who do not use DATEV can of course use this additional 20 character field according to their individual accounting software requirements.
5) View and handling of bookkeeping parameters
>Project management >Bookkeeping
With the introduction of the field "Posting key" the user interface under >Invoices and under >Accounts payable vouchers has been updated. The edit box offers direct access to the core data of customers and resources while working on invoices and payable vouchers, this way sparing the extra work of finding and editing the core data of customers or resources.
6) Project managers can edit the status "New" of files in the file repository and in job files
>Project management >Quotations >… >File repository
> Project management >Orders >… >File repository
> Project management >Orders >… >Job files

Every project manager with access to a particular project can set or remove the status "New" of files in the >File repository and in >Job files. This enhances the communication in projects that are shared between multiple project managers, as it allows the project manager to influence which project and which event is shown in the >Task board.
7) Project managers can switch the e-mail status "Unread" and "Read"
>Project management >Quotations >… >E-mail
>Project management >Orders >… >E-mail
Every project manager who has access to a project can manually switch the status of project related e-mails between "Unread" and "Read". This enhances the communication in projects that are shared between multiple project managers, as it allows the project manager to influence which project and which event is shown in the >Task board.
8) The "Date of customer order" cannot be in the future
>Project management >Quotations >… >Receipt of order
As it can cause major problems in the creation of invoices project managers are no longer able to save a "date of customer order" that is in the future. The date can still be backdated in order to compensate the delayed processing of a customer order and show the correct transmission date of the purchase order - for example after a weekend or holiday.
OTM Update version 7.8 _changelog
Berlin, July 15, 2016
Sharing and delegating projects

There are two additional rights for project managers in >Administration >User administration.

All users with the role of supervisor or admin have these rights by definition, even if the new roles are not explicitly activated. You can optionally assign these rights to any project manager by activating the roles "Project management: Share own project" and/or "Project management: Delegate project".

A) The right to share projects with other project managers

A project manager who has been assigned the role with this right can share his own projects with other project managers (Co-PMs). Supervisors don't have to interact in order to initiate or end the sharing.

B) The right to delegate projects

A project manager who has been assigned the role with this right can delegate a project to another project manager. Once a project has been delegated, the project manager to whom the project has been delegated is responsible for the project. When the delegation of a project ends, the project manager originally in charge of the project resumes responsibility.

Shared handling of a project

In addition to the project manager in charge of a project, the project can be shared with Co-PMs. Thus multiple PMs can work together without having to switch the project back and forth. Sharing a project allows parallel editing of different services/languages by two or more project managers. By granting a more experienced project manager access to the project of a new colleague, the project can be used for training the new project manager, for example.

Parallel work requires extra attention

All project managers participating in the editing and handling of a project need to maintain close communication their activities. Parallel editing of identical data can lead to the data loss or inconsistencies. All project managers involved with the project must consult each other and proceed as agreed.

| | |
| --- | --- |
| Project owner | The project manager to whom a project has been assigned or delegated. There is only one project owner at any given time. |
| Co-PM | A project manager with whom a project has been shared and who therefore has access to the project. The Co-PM can edit the project within the limits of the roles and rights assigned. |

The project owner responsible for a project is usually the project manager to whom the project has been assigned.

If the project has been delegated, the project manager to whom the project has been delegated becomes project owner and then bears responsibility for the project until delegation of the project has ended.

The main responsibility for a project that is being shared with one or more Co-PMs remains with the project owner. The Co-PMs can access the project and act within the same limitations that apply for their own projects.

The project owner has to communicate all events and changes relevant for Co-PMs. Whether and for how long a notification is shown in the >Task board usually depends on the project owner's reaction to the notification. In most cases, the notification expires and vanishes once the project owner has acted. Therefore Co-PMs need the project owner to forward such information.

Visibility of delegated and shared projects

For users with the role of supervisor or admin, each shared or delegated project is visible – as is every other project.
A Co-PM can see all projects that are shared with them on the overview pages >Task board and >Quotations or >Orders.
Shared projects are marked with a background color. There is also an extra filter "Shared" in >Quotations and >Orders.
In addition to the PMs short name the central project information in the project bar includes a plus-sign and the names of the Co-PMs. Example: PM1 +PM2+PM3
If a project has been delegated, the project manager the project has been delegated to is shown in addition to the original project manager. Example: PM2 < PM1
A project that has been delegated is no longer visible to the project manager to whom the project had originally been assigned (unless the project manager has the role of supervisor or admin).

Sharing of delegated projects

Project managers without the role of supervisor or admin cannot see or access a project that has been delegated by them to somebody else. If the original project manager is supposed to keep working in this project, then the project must be shared with them as long as the project remains delegated.

Trados Wizard now considers Trados "Locked Segments"

In SDL Trados Studio 2014 and later versions, the XML analysis file contains tags for "Locked Segments" by default. The Trados Wizard now considers these segments.

Various bug fixes and improvements
OTM Update version 7.6 _changelog
Berlin, March 2, 2016
Customer Management – Industry Sector Information with Tags, Dossier



a) The field with Industry sector information has been moved from General customer data to Properties.

b) To enter or change the Industry sector information, you can use a tagging mechanism which allows you to access all tags that have previously been stored for other customers.

You can enter those tags by mouse click, thus preventing different notations or misspellings and improving your search results.

New tags in Industry sector information will be stored once you enter a string with a semicolon at the end. When you click on the industry sector tag list, you will also see how many times you have applied each tag to your customers.

c) In addition to the Industry sector information there is another text field called Dossier. Hence there is more room to straighten out different kinds of information that so far had to be stored altogether in Notes regarding customer. It may, for example, make sense for you to store general and operative information for project managers in Notes regarding customer while special business information for accountants can be stored under Dossier.

d) On the overview pages (>Task board, >Quotations, >Orders), when you move the mouse over the company name of a customer, all the text that is stored in Notes regarding customer, Industry sector information, and Dossier will be displayed on the screen. The Notes regarding contact will be displayed when you move the mouse over the name of the customer's contact person.

Search Customers

If you sort the search results in >Customers >Search by company name, the results will be grouped showing the company name and industry sector information only once (with all contact persons).

This way it is easier to identify duplicate customer records. In addition to the number of contact persons, the number of different customers/companies that are included in the result list is also displayed.

The search parameters used in the last search will remain stored for a modified search.

Identify customer

a) The algorithm used to compare the customer record of new quote requests to customer records of previous projects has been improved and is more effective in cases of misspellings and fuzzy similarities.

b) The customer identification page offers more functionality and the user interface shows clearer options for the assignation of a new quote request and the included customer record.

c) In order to avoid unnecessary customer identification processes, there is a Graylist for e-mail domains in the administration section. E-mail domains that you put on this list -- e.g. domains of mass e-mail providers such as gmail.com – will reduce the need for carrying out customer identification processes based on an identical e-mail domain.

For detailed information, please read the OTM whitepaper "Identify Customer" here.

Online-order

For customers using the customer portal (service pages) the option to issue an online order is now available for each active quotation, even if the customer's service pages have only been activated after the quotation has been sent. It is no longer necessary to generate a new version of the quotation because of a change in the ordering options.

Optional additional text on payable vouchers

You can now save an optional additional text that you want to be included in your accounts payable vouchers. This text is placed underneath the sum of each payable voucher. It can for example include Information like "Payment period according to GT&C" or "Date of required payment: 30 days starting with date of this voucher".


>Administration >Preferences >Accounts payable vouchers

Various bug fixes and improvements
OTM Update version 7.4 _changelog
Berlin, December 17, 2015
Small GUI change

The label "Project notes" in the overview pages >Task Board, >Quotations and >Orders has been moved to the header of the table in order to make room for more of the actual information.

Customer history: new icons and status information

The H-Icon with the link to a customer's history is now grey and deactivated if there is no project in the history other than the one in the current context. The H-icon of a new customer is shown with a slightly colored frame.

The project history of a customer will include more specified status information. For example what used to be "Status: Order" will now be presented as "Order (running)" or "Order (finished)".

Various bug fixes and improvements
OTM Update version 7.3 _changelog
Berlin, November 9, 2015
Improvement on selecting resources for a job posting

The job count number (total jobs) of resources who have already worked for the regarded customer is now colored orange.

Move the mouse over this number and you will see in which time period the resource has handled how many jobs for the customer and how many jobs for the current contact person.

Project managers see additional information in customer's project history

a) The areas of specialization are indicated for each project.

b) If a customer complaint has been recorded regarding a particular project, this project is clearly marked with the text "Customer complaint".

Improvement on addressing e-mail to customers

The additional options for addressing e-mail to customers have new text labels, a more compact layout and additional help texts.

>Project switchboard >Addressing of e-mail

List of resource invoices

For agencies working with resource invoices (not with credit notes), only:

You now get a list of all resource invoices which the resources have so far failed to generate.

In order to see the list go to >Bookkeeping >Accounts payable vouchers and click >Requested resource invoices.

Once a resource has generated the resource invoice it will appear under >Bookkeeping >Accounts payable vouchers as any other resource invoice that has been generated.
OTM Update version 7.1 _changelog
Berlin, June 15, 2015
Resource administrators can deactivate parameters such as particular services, languages, or areas of specialization for each individual resource




>Administration >Resource administration >Services and
>Administration >Resource administration >Areas of specialization

HR Managers and administrators who have the permission necessary to administer resources can now deactivate certain parameters for each resource on an individual basis. They can, for example, block a specific language pair in a specific area of specialization for a particular resource.

The resource affected by this block will then no longer appear in result lists that are based on a search in which this parameter is a criterion.

The blocking of such a parameter does not affect the resource's setting regarding this parameter.

A parameter blocked in this manner can be unblocked at any time by the HR manager / administrator.
OTM Update version 7.0 _changelog
Berlin, May 11, 2015
The most extensive changes and additions relate to the display and evaluation of quality assessment.

>Administration >Resource administration >Ranking
Setting basic parameters for quality assessment.

>Project management >Search >Resources and
>Project management >Jobs >Post

In the search results, the values for LQA and WWA are now displayed.

As you move the mouse over the individual values, information will be displayed about each piece of data. If you sort the results with OTM-Rank (descending), all parameters will be taken into account in accordance with the settings in the admin interface.

>Resource Profile (Details pop-up window)

The average values of the quality assessments are shown in the header area. The individual criteria are broken down. All individual ratings are displayed as jobs in the QA tab where you can also see the ratings for the individual files.

>Project management >Files >Job files

Improved design of the input screens for the evaluation of files.

Extensive background information:
English: http://www.lsp.net/quality-assurance-with-OTM.html
German: http://de.lsp.net/qualitaetssicherung-mit-OTM.html
Spanish: http://www.lsp.net/control-de-calidad-con-OTM.html

>Administration >Resource administration >Resources >Preferences

Administrators and HR managers can activate the option "Prioritize with Search / Selection" for a resource. The resource will thus be ranked independently of the quality assessment for OTM-Rank (descending). This option allows you to promote certain resources and thereby increase the use of these resources in order to treat them, for example, as 'trainees' to a company.

>Task Board >Quotations >Orders

The project notes are now displayed for each project on the overview pages so that you do not have to open each individual project. The job deadlines are also displayed now for orders.

>Search >Customers

Improved display of settings and search criteria.

>Search >Resources

Improved display of settings and search criteria. Pre-defined shortcuts now allow you to more quickly choose common languages.

>Order >Generate invoice

If a project initially created a partial invoice, then the default for the following statement in this project is also "partial invoice". Thus, in projects where partial invoices exist, the accidental creation of final accounts, which prevent the continuation of the project with further partial invoices, can be avoided.

>Bookkeeping > Export bookkeeping

The VAT IDs can now be added to the export templates for document lists of invoices and accounts payable vouchers.

>Resource pages

Resources now see a complete list with both upload date and comment on all result files that have been uploaded while working on a project.

Various bug fixes and improvements
ISO 9001 Recertification
Berlin, February 2, 2015
LSP.net GmbH has been sucessfully recertified to ISO 9001.
The new certificate is valid thru April 2018.
OTM Update 6.5
Berlin, April 28, 2014
OTM 6.5 includes improvements of the customer administration and communication plus adjustments in line with the turnover tax (VAT) legislation of the European Union.
PayPal Button for invoices and payment requests

OTM licensees can now offer customers the option to settle invoices, partial invoices and payment requests directly with PayPal. A PayPal button is integrated in the relevant PDF documents for this.

Details about the OTM PayPal Button

EU: Notice for reverse taxation

The European Union has expanded the directives for issuing documents relevant to VAT (invoices and credit notes). The addendum states that under particular conditions documents within the EU must include a notice for reverse taxation.

Details about the OTM module "Reverse taxation in the EU"


Improvements in using alternative invoice recipients



Multiple alternative invoice recipients can be saved for a customer. An alternative recipient can also be indicated as the default recipient.

The use of an alternative invoice recipient may possibly require changes in the tax setting (VAT, for example) for the project. In this case, OTM displays a warning before the document is generated.

Invoices issued to an alternative invoice recipient are marked with a color to indicate this in the OTM accounting module.

Details about the OTM feature "Alternative invoice recipients"


Et cetera




Bug fixes and a few improvements of details.
OTM Update 6.0
Berlin, July 3, 2013 – Another outstanding feature has been added to the Online Translation Manager in the OTM 6.0 update:

The OTM SDL Trados® Studio Wizard

The wizard enables project managers to process Trados XML analysis files, apply weighting factors and use the results for line items in quotations or invoices.


This completes the integration of SDL Trados Studio in OTM, which began in 2012 with the development of the CAT Weighting Tool, available for use online free of charge. Experience acquired with the weighting tool was applied to OTM, and options to produce line items from the Trados analyses were added.
The OTM SDL TRADOS Studio Connector for Windows was created in parallel in a collaborative effort with consultant and developer Tom Imhof of localix.biz. The connector provides a secure connection between OTM on the Internet and local installations of SDL Trados Studio Professional. The extensive automation of Trados workflows in this integration saves considerable time and ensures a high degree of process reliability for project managers.
New OTM Enterprise license
Berlin, May 2, 2013 – LSP.net now offers three license options for the company's Online Translation Manager (OTM) software for language service project management: the "Budget" option for those with low outsourcing needs, "Business" for frequent outsourcers, and the new "Enterprise" license for those operations which require full scalability.
The OTM Enterprise license is designed for language service providers with more than 10 project managers and offers the following advantages:
OTM Enterprise runs on separate server hardware dedicated exclusively to the data of the Enterprise licensee. It uses state-of-the-art hardware with two multi-core processors, copious RAM and super-fast SSD and RAID technology.
Licensees can use their own Internet domains.
The monthly license fee includes an unlimited number of project manager and administration accounts at a flat rate.
The OTM license contract has a minimum term of 12 months. The one-time setup fee is 5,600 euros, with a monthly fee of 2,380 euros.
Administration and maintenance of the Enterprise server are handled by the highly qualified IT specialists at LSP.net; the costs of service are covered by the monthly license fee.
As with the other license options, data security is a top priority for OTM Enterprise. The Enterprise server is located in a high-security data center in Germany and can be accessed only via certified, SSL-encrypted Internet connections. Data and files are also backed up automatically on a minute cycle via encrypted lines to a server at a second data center located in Germany.
Details on the OTM Enterprise license and a comparison of the available licensing options can be seen here: http://www.lsp.net/otm-license.html
Free Online CAT Weighting Tool
Berlin, January 18, 2013
The challenge
Translation environment software typically offers "analysis" of project files to determine the number of words and characters as well as matches or similarities between texts or translation memory resources. Converting this information to a price quotation for customers taking into account weighting factors is not always simple.
A typical solution to this problem involves spreadsheets, usually created in Excel with great effort. Data are copied and pasted from the analysis file(s) and formulae in the cells crunch the numbers for the desired result.
If a project has multiple files, and weighted data and costs are required for individual files, it all becomes more complicated.
Many likely already experience despair with the effort of automatically words and characters to "standard" lines or other units used in various countries.
The solution
The free online CAT Weighting Tool from LSP.net
Simply upload your analysis file, enter the relevant weighting factors and rate and you're just a click away from the information you need to quote.
The weighting factors and price can be changed later if necessary, and results for individual files can be shown.
Conversions to standard lines of 50, 55 or 60 keystrokes are also very simple. The results can also be printed.
Your settings for calculation and conversion of analysis information can also be save in a browser cookie so you need not re-enter rates and weights the next time you need to apply them.
This free online calculator works with every current browser.
Which analysis files can be used?
The January 2013 release of the online weighting calculator for cost estimation is able to work only with analysis files which are compliant with SDL Trados® Studio's XML format.
Future plans (Q2 2013) include expanding the tool to include analysis files from other translation environment tools such as memoQ.
Try our Online CAT Weighting Tool here: www.LSP.net/CAT
Data security
LSP.net saves neither your data nor your files.
After it is uploaded, the analysis file is used for a few seconds to read and display the count data and display it in the browser. Then the analysis you upload is deleted immediately and permanently from our server.
If your settings are saved in a cookie, this cookie is only on your computer.
OTM Version 6
The release of OTM 6 also includes the calculator tool and will enable lines items for quotation to be created with just a click.
Our middleware tool, the "OTM SDL Trados Studio Connector", makes quotation calculation even easier. Install this little application on your computer with SDL Trados Studio Professional, and project files are taken directly from the Online Translation Manager (OTM) and passed to SDL Trados Studio, where a project and/or packages and translation memories are created automatically. Existing TMs can be used for the analysis of the source files.
The Connector uploads the analysis files produced by SDL Trados Studio to the relevant project in OTM, where the features for quotation described above and further quotation options can be applied.
SDL TRADOS® is a registered trademark of SDL
OTM Update 5.6
Berlin, April 12, 2012 – OTM has been updated to version 5.6.
New feature: "Certificate of Translation" can be created and sent with the outgoing invoice. Certificates can be signed individually with signatures of the respective project manager and/or CEO. more ...
OTM Update 5.5
Berlin, February 22, 2012 – OTM has been updated to version 5.5.
New feature: Copy and repository function for job descriptions (load / save).
_changelog OTM Update 5.1
Berlin, October 26, 2011 –
Customer e-mail wizard




The new e-mail wizard helps you organize multiple e-mail recipients on the side of the customer. The wizard is available everywhere e-mail is written to customers.

Any number of e-mail addresses can be set up for a customer and commented. The e-mail addresses of all contact persons for a customer can be imported with just a click.

The saved addresses can be inserted in the TO, CC or BCC field automatically or using a convenient selection dialog.

Moreover, general notes can be saved, which are displayed when writing e-mail to customers. This function is useful for showing notes which are not related to the e-mail configuration but which contain information to be considered in the relevant project.

The e-mail addresses and their settings are stored project specifically, i.e. changes in the settings of a project do not change the settings of existing projects. The last e-mail configuration in each case is used as a default for new projects of the customer.

An exception is when sending mail for invoices, partial invoices, payment requests and customer credit notes: the TO, CC and BCC fields must be filled in manually as required.

Here's an example of how it works:

The quotation is sent to the customer's purchasing department. However, in the rest of the workflow, the original contact for the customer is responsible for matters.  Moreover, one or more other persons are to receive CC or BCC copies of e-mail for the project. The invoice for the project is sent to the customer's bookkeeping department.




Extended functionality of customer service pages



An administrator of customer service pages can archive projects of co-workers.



Et cetera




Bug fixes and a few improvements of details.
OTM 5.0 from LSP.net certified as EN 15038 compliant project management tool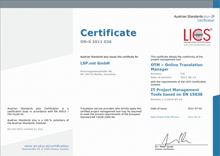 Berlin, July 1, 2011 – Good things come in threes it is said, and this is now the case with the new release 5.0 of the Online Translation Manager (OTM), the language services project management solution from LSP.net GmbH.
The software, which is available as an affordable online service (SaaS), was recently issued a certificate by Austrian Standards plus verifying its compliance with the translation service standard EN 15038. It is the first and so far only commercial language service project management solution to be certified according to this standard.
LSP.net has already been certified to ISO 9001 (quality management) and is compliant to ISO 27001 (information security management) for a total of three process standards relevant to the leading edge of language services today.
This latest certification should ease the way for OTM licensees seeking to certify their businesses for compliance with industry standards. All the processes required by EN 15038 are integrated in the project management and administration modules of OTM, and the translation process documentation required for certification is available to licensees at no charge, simplifying preparation for the certification audit.
"We are proud to have achieved this milestone," commented LSP.net CEO Ulrich Scheffler. "In today's fast-paced, competitive global environment, it is more important than ever to promote and apply best practices to ensure that the value expected is received and recognized. EN 15038 is one of many quality milestones of the past year which have been reached with the support and collaboration of our partners and licensees with their valuable feedback on the diverse business challenges faced in international environments."