_changelog OTM Update 4.1
Berlin, March 1, 2011
Configuration for exporting data from the bookkeeping module




The data export for invoices and payable vouchers can be customized under >Bookkeeping >Bookkeeping export (configuration). The sequence of field contents, column delimiters and file format for the export (TXT or CSV) can all be configured as required.

Templates can be created and saved. Saved templates can be changed. A template is selected as the default for export in each case.

The exports for selected documents can be performed under >Bookkeeping >Invoices or >Bookkeeping >Payable vouchers. The export files are UTF-8 encoded.

Bookkeeping data exported from OTM can be read into external accounting software (such as DATEV®, SAP®, Lexware®, SAGE® and others) and processed further in those environments.

Additional resource administration options




Under >Administration >Agency resources there are now filters for >Applicants and >Candidates that enable searches to be limited so that particular language combinations can be found more quickly, for example. The sort functions (column sort) were also expanded.

The list of candidates now shows which information is missing in the profile of a particular resource. A three-stage e-mail function has been added with which resources can be encouraged to complete the necessary data in their profiles. The text of the e-mail messages can be customized (in English, Spanish and German) in the administration module.

Please note: resources are available for job assignments only after all the required data are entered.

OTM currencies




The Israeli shekel (ILS) has been added as a currency.

Display of the time zone selected by the user




The project manager interface now shows the time zone chosen by the user at the upper right of the main menu. Adjacent to it the difference from UTC is displayed. Clicking the icon next to the time opens the external web page at www.timeanddate.com with comprehensive time zone and calendar information.

Previously the system time of the user's computer was displayed at this location. This is usually shown by the computer anyway at the lower right of the screen.

Et cetera




The update to OTM version 4.1 contains more than 100 major and minor improvements.
Another step ahead: LSP.net releases version 4.0 of the Online Translation Manager (OTM ®)
Berlin, January 17, 2011 – In response to the rapidly evolving needs of the international language services industry, today LSP.net GmbH released the production version of OTM 4.0, with unique approaches to make language project management anywhere, anytime easier than before.
LSP managers on the go can now use iPhone and Blackberry devices to check project status, view and assign requests, read and respond to e-mail, view reports and customer records and more. The well-conceived new interface for smartphones gives language professionals a clear overview of critical information without overwhelming them with details.
For those who have to cope with time zone differences at work or when traveling, OTM now allows each user to set an individual time zone for personal displays of information. A project manager in New York can see all information in Eastern Standard Time while his Berlin office colleagues work with Central European Time on their screens, and an alternative tips display of UTC keeps both aware of international reference times. UTC can also be set as the main time view with the alternative time zone shown as a mouseover tip.
Responding to requests by OTM users for more costing functions such as price lists, the architects of OTM have designed a unique and powerful template feature that not only enables general and customer-specific rates to be saved for project price calculations but which also considerably reduces the time required to enter project line item information for quotations and invoices. Template information can be used from any customer project, and multiple templates can be applied to quotations with various parts. Project managers can create and save personal rate and service templates and choose to make these available to others in their organization.
Learning is also part of the progress with OTM 4.0. Live tutorial projects have been created (and are available on request) to guide new project managers step by step through key project workflows – from the initial quotation request, to the offer, outsourcing to service suppliers, delivery and invoicing. There are also a host of new information videos and other tutorials to make getting started with state-of-the-art language services business management faster and easier.
Greater efficiency is also the theme of many other minor changes to on-screen workflows, which save project managers valuable time while keeping critical views updated. New options for alerting PMs to differences in quantity units (such as pages versus words) between customer quotations and service provider job postings and associated possibilities for manual data entry or recalculation based on factors also save time, increase efficiency and reduce errors.
With its latest release of the Online Translation Manager, LSP.net once again underscores the company's commitment to greater efficiency, transparency and security for all stakeholders in translation projects and related services. Its enormous flexibility, scalability and attractive pricing make the project management power of the leading language service providers available to any company, large volume translation consumer, teams (large or small) or freelancers who want to be ready for whatever comes – now and in the future.
_changelog OTM Update 4.0
Berlin, January 17, 2011
Saving line item templates and importing line item lists


Line item lists include the service, possibly the language pair, service-specific text blocks, rates, areas of specialization, etc., without references to files and quantities. They are imported into current projects from other projects or templates which have been saved especially for this purpose. A saved template can be used as a "price list".
(a) >Line items: line item lists are imported into current projects from other projects or from saved templates.
(b) >Manage templates: naming, renaming, deleting and releasing line item lists
(c) >Project management >Line item summary: saving a line item list as a template for use by other project managers in the same organization. (PM users with administrative or supervisory rights always see all of a company's templates.)



Web interface for mobile access


Access is now possible via iPhone and Blackberry devices. Running OTM in the smartphone browsers enables you to handle basic administrative tasks for project management:
- View project requests and assign them for processing
- Block project management
- Read e-mail
- Read reports
- View customer profiles



"Copy file" function


>File repository
>Project documents
>Customer documents
It's now easier to copy a file from one area to another. You can choose to save the file copy directly in the >File repository, >Project documents or >Customer documents.



>Project documents function upgraded


Additional information, functions and sorting options



Select user interface display time zone


Schedules and deadlines will be shown in the user interface for project managers and resources in the time zone selected by the user.



Date entry in ISO format


Dates and times (for example for deadlines) are now entered using the ISO format: YYYY-DD-MM hh:mm



Shortcut to the project summary


On the overview pages and the project summary box, an icon now appears before the project number. Clicking it takes you directly to the project summary without the need to use the dropdown menu for navigation.



>Job file functions now use AJAX


It is no longer necessary to refresh pages manually after changes are made, such as evaluating a results file or accepting a delivery file. The changed information is displayed immediately.



Warning if the default deadline for jobs is changed


If jobs are already saved in a project, after a project manager changes the default job deadline a warning appears indicating that jobs previously created are not automatically updated and may require manual attention.



>Order >Generate invoice function updated


The page for generating invoices (as well as payment requests, partial invoices and credit notes) was redesigned. An HTML preview of the PDF document is now included, and an editable e-mail message is now shown if the document is to be sent by e-mail.



Differentiated display of first and last names


It is not clear in all languages what the first and last name of a person is, for example when the name consists of more than two words altogether. Now last names are indicated by the use of bold type.



Delivery of certified documents


As of OTM 4.0 resources can no longer be searched globally by the criterion of being court-appointed. Instead, it is determined based on the service and language pair whether the criterion for the delivery of certified documents is relevant. Since there is no uniform rules that apply internationally to this issue and the legal situation cannot be generalized, an additional query is made for qualifications and the agency which granted authorization. Current resources who were listed as being sworn will be requested to provide more specific information when they log in to their service pages.



>Bookkeeping – Display of the posted amount instead of the remaining amount


Outgoing invoices which follow a payment request which has been settled will no longer show the unpaid amount remaining as "0" but instead will indicate the posted amount in the bookkeeping overviews.



Wizard for quantity unit differences between items in a quotation and the corresponding jobs


If a project uses quantity units for a job given to a resource that differ from those used in the quote or invoice for the customer, OTM offers assistance in conversion using factors or allows other amounts to be input manually.


Various other minor improvements were implemented.

_changelog OTM Update 3.1
Berlin, October 11, 2010
Date formats in the project manager interface


In the project management interface, dates are now always displayed in the ISO format, for example: 2010-09-27, possibly with time information added. The entry fields were adapted accordingly.



E-mail threads repositioned


In the project navigation menu, links to the e-mail threads were moved under >Project summary. The corresponding tabs are thus found at >Project summary >E-mail (customer) and >Project summary >E-mail (resources).



Revision of >Reports >Cash flow


The data for receivables (invoices) and payables (remuneration) will be displayed graphically based on the projects entered; this will be seen by users with corresponding authorization.



Address formats


The address formats of many countries are unique. Depending on the country, individual elements like postal code, city, street address, etc. are arranged in different ways. OTM adapts to the relevant customs and provides international users with the accustomed formats in each case. All this is flexibly designed so that new information on formats for specific countries can be added and implemented in updates that follow.



Knowledge base


The knowledge base in the project management module has been expanded and currently contains the following elements: videos, Q&A, sample service pages for customers and resources, links to the OTM blog, change log and LSP.net news.



Accounting entry when invoices are sent by e-mail


When an invoice is sent by e-mail, an entry is automatically made in the accounting module in the field for comments and status changes. This information indicates when and by whom the invoice was sent.



Automatic assignment of projects to the sole project manager


If there is only one project manager in the company, then new projects are automatically assigned to that person. The corresponding step in the project switchboard is no longer required.



Transparent initial download of delivery files


PMs can see under >Files >Job files whether a delivery file has been downloaded by the customer, more specifically by a contact person in the customer's organization. (The person who first downloaded the file is indicated.)



Removing the "new" label for files in the file repository


Project managers can manually remove the "new" label for files in the repository. (It makes sense to do this if, for example, an administrator takes a project himself as a PM and has already seen the files.)



Configurable defaults for sending e-mail notifications


For a series of important e-mail messages to customers, the configuration can be set to send these messages or omit them by default. The project manager can change these settings in each individual project.
The general defaults for all customers of the company are under >Administration >Preferences >E-mail options. In case other settings are to be applied to customers or individual contact persons, the appropriate changes can be made in >Customer administration >Preferences or >Customer administration >Customer contact persons.



T&Cs in languages other than the project language


The general terms and conditions of business for a company or agency are not always available in all languages used for handling projects. When a quotation is created, project managers have the option to attach T&Cs to the quotation even if the language of these terms differs from the project language.
If T&Cs are available in several languages other than the project language, a corresponding selection can be made. For example, consider the case where the project language is Dutch, but the T&Cs are available only in English and German. The PM can choose to attach the terms and conditions in English or German to the quotation in Dutch.



T&Cs can be viewed under >Team


The currently valid general terms and conditions of business for customers and resources, if present, can be viewed under >Team in all the languages for which they are available.



Language selection for e-mail when involving resources


In >Administration >Resource management, when the invitation e-mail is sent, there is an option available to select the language for each individual mail.



No VAT information from EU resources if they belong to a non-EU agency


It is only required to enter VAT information for agency resources located in the EU if the agency is domiciled in the EU.



Information for freelancers when the delivery of result files is completed


When the delivery is completed (the last outstanding result file is uploaded), resources with project-related remuneration receive extensive information regarding the creation of the payable voucher.
This main purpose of this information is to increase the awareness that it is unnecessary and counterproductive to create documents for this purpose outside the system.
The necessary data for a job are already present in OTM, and regardless of whether the credit note is generated by the agency or a resource invoice is created by the freelancer, the necessary document can be created quickly and cleanly in OTM.



Configurable services in the quote request form


The services listed on the quote request form can be selected under >Administration >Preferences >Project management settings. Services which are not selected (checkboxes not marked) do not appear on the quote request form.



Include e-mail in the project documents as a PDF


E-mail from customers can be converted directly into a PDF document within a project and then stored under >Project documents (in the project summary). This is useful, for example, if the customer has already placed an order in a simple e-mail message and is not to be requested to submit an order form. This type of order is then better compliant in some cases with the formal legal requirements for contractual relevance.
The next OTM update is scheduled for January 2011
The 2011 OTM Guide is now available
Berlin, September 24, 2010 – LSP.net has published the 2011 edition of the Online Translation Manager Guide, a booklet providing a detailed, illustrated view of the features and benefits of this comprehensive system for language service management, including workflow, customer relationship management, data security, accounting and communication. Printed copies of the 2011 OTM Guide are also available in English.
Version 3.0 of the Online Translation Manager (OTM) sets new standards in online project management for language service providers
Berlin, August 3, 2010 – LSP.net, the provider of unique solutions and quality management tools for the language industry, today announced the production release of its workflow solution OTM 3.0. The new version offers significantly expanded functions for the LSP online project management platform.
LSP.net CEO Ulrich Scheffler explained, "The new release enables our licensees to customize project communication with their customers individually in any language. We have also continued to optimize the business components of the software to offer users unobtrusive guidance for commercial correct processes.
OTM is an all-round solution for language service providers and sets new standards for online project management with respect to functionality, transparency, security and availability."
Along with the standard system languages English, Spanish and German, customer interface components for the OTM platform are now also available in Dutch and Portuguese. And the new OTM localization interface enables additional language localizations to be added quickly and easily.
About OTM
The Online Translation Manager (OTM) directs and manages project processes for translations, editing, localization and desktop publishing. It is an expert software as a service ("SaaS") system that is simple to operate and is available around the clock. All you need is an Internet connection.
OTM service starts at only € 29 per month. A free 30-day trial of OTM 3.0 with full functionality can be requested at the LSP.net web site.
_changelog OTM Update 3.0
Berlin, August 2, 2010
Online order


Online order Customers with service pages can place an order using an online form. The online form is converted automatically to a PDF file and added to the project documents. The PM gets a message under "Orders" that the order has been received (just like when a faxed order has been uploaded).

Additional languages for communication with customers


All communication with customers (e-mail and PDF documents) can now also take place in Dutch and Portuguese (BR). The customer user interface is also available in these languages.

Back-end tools for adapting standard texts


The following standard texts can now also be individually customized in the administration module:
- e-mail to customers
- texts in documents for customers
(quotations, invoices, credit notes, etc.)
- services offered
- OTM web site navigation menu

Resource service pages


The color themes were upgraded.
Various other minor improvements were implemented.
The next OTM update is scheduled for October 2010.
>> For latest news please click here.

News and updates
Brief Company Profile
LSP.net GmbH (the Language Service Provider Network) is a unique provider of solutions and quality management tools for the language industry.
The company has developed the Online Translation Manager (OTM) software since 2001. OTM is available as a service to independent language service providers.
The team at LSP.net GmbH includes translation agency project managers, linguists, commercial experts, attorneys and IT specialists, all with many years of experience in the language industry.
LSP.net's ISO Certificate and Compliance
Service quality and data protection are the central focus of customer relations.
LSP.net GmbH is certified according to the international standards ISO 9001 (Quality Management System) and the Information Security Management System is compliant to ISO 27001.
Trademark Information
"LSP", "OTM" and "Quality Translation Network" are registered trademarks of LSP.net Holding GmbH.
Copyright Information
© 2008- LSP.net GmbH – All rights reserved.
OTM Guide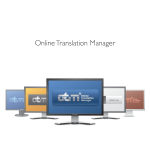 Newsletter Archive
LSP.net Newsletter January 2011
LSP.net Newsletter February 2013
Past events
"Shared knowledge. Better Business." - this is the motto of the European Software Solutions Conference ("sosocon"), which will take place in Hanover, from November 30 to December 2, 2010. On the first day of the conference, LSP.net will present its SaaS software OTM as a 'Technology Solution' on the subject of customer business processes.
The Conference for translators and interpreters RuhrKo 2010 takes place on October 23 and 24 in Dortmund, Germany.
LSP.net is partner for this event on the subject of "Language as an Economic Factor". more ...
As part of the RuhrKo 2010 conference in Dortmund, a 3-hour seminar on OTM project management for freelancers will be held on 22 Oct 2010.more ...
LSP.net is sponsor of the 7th ProZ.com International Conference, which takes place from October 2 and 3 in Prague. more ...
LSP.net is exhibitor at the
ProZ.com Translation Agencies Virtual conference October 13, 2010.