Berlin, November 2014
The survey for freelance language service providers on managing orders and projects is now closed.
It was conducted in the summer and autumn of 2014 in English, German and Portuguese to help us plan our new business management solution for freelance providers, OTM SOLISTA.
We would like to thank all those who participated in the survey. Many of you have already entered your e-mail addresses in the project's mailing list. If you have not done this before, you may do so here now.
The many responses and most particularly the personal comments from many in individual questions have been valuable guidance in planning the business software requirements for freelance translators, editors, interpreters and others. Here are a few of the survey results:
42% of the respondents are members of a professional association.
As was to be expected, the translation sector is marked throughout by the use of the Internet. Customer assignments are received by e-mail with 99% of the translators who responded to the survey; orders were received by telephone with 26% of respondents, a very distant second place. All other means of communication for receiving work were used by single-digit percentages of the linguists in the survey.
Similar results were found for delivering work results, though it is noteworthy that along with 97% of respondents using e-mail to deliver, more than 40% also use FTP or customer portal pages for their deliveries. Most translators are aware of the security requirements for information and data. Fifty-eight percent of the survey respondents considered confidentiality and data security to be a concern in all cases, with 31% seeing this as important at least for special projects.
There is no doubt that this consciousness can be disputed given the large numbers of "confidential" files sent by e-mail from customers to translators in daily practice. Many have a growing sense of discomfort, but a simple solution is lacking to dissuade customers from putting their own confidential information at risk time and again.
In the assessment of specific features, the integration of word count and CAT tool analyses as well as price calculations were high on respondents' wish lists. Accounts receivable management was also ranked as very important - no surprise, given that two-thirds of the respondents must write multiple invoices each week.
Twenty-four percent of those surveyed had no web site of their own but wanted to improve their visibility in Internet searches. Eleven percent felt that having their own customer portal would offer benefits, while more than half felt this was a possibility.
Two-thirds of respondents used Microsoft Outlook for e-mail correspondence or the popular Mozilla Thunderbird, and one third used web e-mail.
Sixty percent of respondents admitted to having no backups of their data or to keeping backups only at their workplace.
In the weeks ahead, the LSP.net team will begin the programming of OTM SOLISTA, taking into account the trends identified and suggestions received in the survey.
Those who have joined the mailing list will receive updates on the progress of development.
You can also follow the progress of SOLISTA on this web site - watch this space for updates!
Sincerely,
Your LSP.net team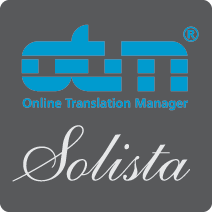 Berlin, November 2014
Die Umfrage zu Auftragsverwaltung und Projektmanagement für Einzelübersetzer ist abgeschlossen.
Von Sommer bis Herbst 2014 haben wir in den Sprachen Englisch, Deutsch und Portugiesisch eine Umfrage zum Thema unserer geplanten Business-Software für Einzelübersetzer – OTM SOLISTA – durchgeführt.
Herzlichen Dank an alle, die unsere Fragen beantwortet haben! Viele von Ihnen haben sich bereits in die Projekt-Mailingliste eingetragen. Wer dies noch nicht getan hat, kann dies hier tun.
Dank der regen Teilnahme und ganz besonders anhand der vielen persönlichen Kommentare zu einzelnen Fragen wurde deutlich, welche Anforderungen an eine Business-Software für Übersetzer gestellt werden. Hier einige erste Ergebnisse:
42 Prozent der Teilnehmer sind Mitglied in einem Berufsverband.
Wie zu erwarten war, ist die Übersetzungsbranche flächendeckend durch den Gebrauch des Internets geprägt. So erfolgt die Beauftragung durch Kunden bei 99 Prozent aller Übersetzer unter anderem per E-Mail, während die telefonische Auftragserteilung mit 26 Prozent erst mit großem Abstand auf Platz 2 rangiert und alle übrigen Kommunikationswege im unteren einstelligen Prozentbereich liegen.
Ähnliches gilt für die Auslieferung der Arbeitsergebnisse, allerdings mit der Besonderheit, dass hier von den Befragten neben E-Mail, die von 97 Prozent eingesetzt wird, mit je deutlich über 40 Prozent auch FTP-Übertragung bzw. Portalseiten der Kunden intensiv genutzt werden. Übersetzer sind sich der Anforderungen hinsichtlich Informations- und Datensicherheit überwiegend bewusst. Von den Teilnehmern der Umfrage halten 58 Prozent die Vertraulichkeit und Datensicherheit grundsätzlich immer und 31 Prozent zumindest bei speziellen Projekten für wichtig.
Dass dieses Bewusstsein in der täglichen Praxis bei der Unmenge sogenannter vertraulicher Dateien, die von Kunden per E-Mail  an Übersetzer versendet werden, Anfechtungen ausgesetzt ist, steht außer Zweifel. Viele beschleicht sicherlich ein ungutes Gefühl, aber es fehlt an der einfachen, überzeugenden Lösung, um Kunden davon abzubringen, ihre vertraulichen Daten immer wieder selbst in Gefahr zu bringen.
Bei der Bewertung bestimmter Features steht die Integration von Wordcount/CAT-Analyse und Preiskalkulation weit oben auf der Wunschliste; ebenso eine Debitoren-Buchhaltung, was nicht verwunderlich ist angesichts der Tatsache, dass zwei Drittel der Teilnehmer pro Woche mehrere Rechnungen an Kunden stellen müssen.
24 Prozent der Befragten verfügen über keine eigene Internetseite, wünschen sich jedoch mehr Präsenz in den Internet-Suchergebnissen. 11 Prozent sind davon überzeugt, dass Ihnen ein eigenes Portal für ihre Kunden einen Vorteil bringen würde, und über 50 Prozent halten dies immerhin für möglich.
Zwei Drittel der Befragten setzen für den E-Mail-Verkehr auf Microsofts E-Mail-Client Outlook oder auf den weitverbreiteten Mozilla Thunderbird, und ein Drittel verwendet Web-E-Mail.
60 Prozent der Befragten geben an, dass sie entweder keine Backups Ihrer Daten erstellen oder dass die gesicherten Daten lediglich am Arbeitsplatz aufbewahrt werden.
Das LSP.net Team wird in den kommenden Wochen mit der Programmierung von OTM SOLISTA beginnen und dabei die Tendenzen und Anregungen aus der Umfrage entsprechend berücksichtigen.
Interessenten, die sich in die Mailingliste eingetragen haben, werden wir über den Fortgang der Entwicklung informieren.
Wir würden uns freuen, wenn Sie gelegentlich auf dieser Webseite vorbeischauen, um das Projekt zu verfolgen.
Ihr LSP.net-Team